SWĀ
Episode 4: the "image resizer destroyed everything" episode
It's probably going to be kinda short.
So...

After yesterday's tragedy I took the survivors - Hookah, Marushka, Dunsdottir, and Tirili off to explore route 4. I checked my party to make sure I boxed Lux and ran over the counter to top off on my supplies, buying some crazy amount of potions. I wanted to show off that "left counter guy", the one who sells adventure items, allowed me access to more items - most of the disposable items to cure status conditions, super potions (iirc) and great balls. But I didn't actually have a whole lot of money...

I arrived to a path that seemed less like a "route" and more like some rich person's backyard. Between Santalune and our destination today, Lumiose, there were a pair of hedge mazes cut by a giant fountain.

NOT MY PICTURE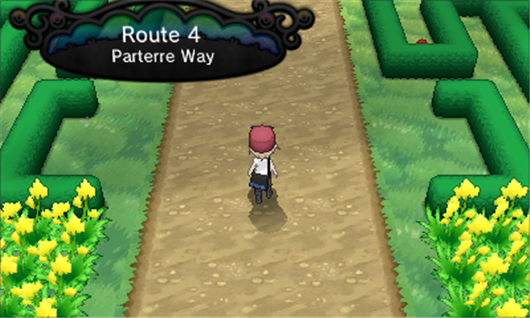 A trick I learned from Naka Teleeli of all people and somehow never learned on my own is an old trick to find your way through any labyrinth. Just pick a wall and follow it, and if you come to where you've already been, hop to the other, or something like that. So, broadly, I'd start by making my way into the hedge maze on the left, then the right, then passed the fountain etc, cleaning up all the items I could.


Immediately I got our encounter: a level 6 quiet (+Sp Atk - Speed) male combee. Not the best thing, but something to make work.

Combee has an I think unique evolutionary pattern - based on bees, 7/8ths are males, but the 1/8 of all combees which are female evolve to vespiqueen. And vespiqueen's actually not bad, but combee is pretty much low tier. Not that I really know what I'm doing.

It was caught after eating a few balls - no use in wasting an encounter even if it ends up being lackluster. It will likely only know four moves in the entire time we have it though - it doesn't learn much. Although, one of its moves - sweet scent - can do wonders for training later on. He also came with a pot of honey, not that I found out right away, but that's a rare thing and something good for later.


Anyways I had to choose a name for him. Bug fell under Alice's themes again, so I went looking for a bee-like character. Found nothing, but at one point Alice did mistake a gaggle of elephants for bees, so I named him after a famous elephant, specifically Charlemagne's - Abulabbaz (sic).



With him in our party I journeyed onward using some minor switch training accidentally on some of the gardeners tending to the maze. Hookah took down a Corphish at level 10, Marushkagot most of the exp.

Ended up finding a few items in the bushes - a repel, a great ball, and even an antidote. Nothing too fancy.


Started heading northward where I fought a pair of skaters orbiting around the fountain.

not mine!



One had the awesome name Calida who had a Flechling, and was looking for other Fletchlings despite them not being available on the route. The other was a guy named Roland who had a pidgey. For both of them Dunsdottir and her rollout took care of them quick.

Farther down the route the mazes were forked by a little hedge in the middle. I took on left first, which had another gardener I took care of with Hookah's stun spore + struggle bug combo. A little girl surprized me with "Hey! Listen!" but it turns out her name was Mia, and her Budew was taken care of promptly. Inside the maze - a nest ball, something more effective on bug and water pokémon than others.


Across the way was a little kid with something "super" he got via trade. I had by this time moved Marushka in the back and let Abulabbaz take the lead, and it kinda got me worried - I was already using potions up. Turns out the poor kid had a magikarp, something I let Abulabbas take out all on his own since it only knew splash (a move that does nothing).

Imagine a world where you send your kids out with their pets and they have the authority to trade them for anything. Scary right? This poor kid evidently did that, trading away his family pet for worthless quickly dying fish
He attributed his loss to Magikarp not knowing him yet...


Went on, picking up some honey, potions, and some other things. Ended up facing off against more gardners and a few pokéfans with nothing memorable, but now I was a little more stressed and starting using more potions. I still have more than 5 but I guess Lux traumatized me or something.


Went up through the middle at last, picking up a poison barb and rollouting through a Pichu and Pikachu. Would've healed again, but we were at the end of the route.


Greeting me were

China

Sina and Dexio, whatever the hell those names were supposed to be. They tell us about the "newly discovered" fairy types, and how Sycamore sent them to investigate. And how it "turned the type matchup system upside down" or something, the game was talking about its own meta and it made uncomfortable...

The ushered me into a gate - there's a lot of transition gates between routes to make loading zones easier on the game. Inside, they pretended like Abulabbaz knew me and handed me a tm for a move he can't learn - Return. Return's actually pretty good though, arguably one of the best normal type moves, so its not unappreciated. It's power is set by the pokémon's friendship value /2.5; and since nuzlockes don't make it easy to lose friendship points (since things don't faint), this will be pretty powerful, at least later on.



Finally, in Lumiose, the Paris of the Pokémon world, I was flooded with a whole bunch of things. The Camera controls changed entirely, as you control your character in the sort of 3d you'd expect in a zelda. But It's actually quite painfully bad; there's no good way to make the camera behave, and because you're forced to a grid in radial city it's easy to get very disoriented right away. Everyone's least favorite city, I think. And for whatever reason even though all the lights are on and you can clearly see that they are, there's apparently a major power outage in most of the city that prevents you from exploring really any of it.


Anyways, Sinister and Dexter told me to follow her right to the pokémon lab. I however just wanted to check out the pokémon center. There are cafes along the boulevard, and other things, but I didn't really check them out. I'm not really sure about whether there's even a boutique for me to visit in the next episode; if you want to pick 1-5 that's fine, but no guarantees it will actually do anything.

The Pokémon centers look identical to cafés for some reason, but eventually I found one and healed up. The mart attached too it sold a lot of really cool items - all tms. But, unfortunately, it was much too expensive for me to buy right now.

I headed south, finding Sina standing out in front of the lab, where she ushered me in. Sycamore's apparently on the 3rd floor, which really confused me at first. Basically, in Europe, including the UK from what I understand, they count ground floors like floor 0s instead of floor 1s. So when I first played the game, Sycamore was on the second floor, two up from the ground floor. Yeah, this is a weird thing that also gets confusing playing zeldas... Bottom floor had not much more than Sina, a receptionist, and a weird elevator that was all pod shaped.


Anyways, middle floor was full of scientists, one had a mysterious machine he was working on; most just talked, one rated my pokémon dex. The music was interrupted to congratulate me on finding 150 pokémon... oh... and the assistant gave me a tm containing false swipe to use.

Which is conflicting. False swipe is this awesome move that is guaranteed (for the most part) to always leave your opponent's hp at at least 1. It doesn't have a lot of competitive applications but it makes catching things a snag, and really pleasant. I'm not sure I can justify a whole moveslot just for route by route encounters but its something I may consider.



Up on the third floor and the music changes to the most awesome thing in the game : Sycamore's Theme
that's like, music I would actually listen to oy

And Mr. Inexplicably awesome just meets us and congratulates us and everything, asking to know how many pokémon we've seen, then it interrupts his amazing theme with a horrible fanfare and he talks about how excellent it is that he actually decided to ask the daughter of the "famous rhyhorn racer" instead of just hrabel garble the rising sun just moved in my eyes


instead of just the kid of the experienced trainer, who I can't tell if they're Shauna or Calem.

Anyways, los bozitos superiores arrive (Shauna and Calem) and Sycamore tells us to hurry and fight, assuring us he's a pushover even though his whole team's at level 10. So we do.


First up, a bulbasaur. I'm like... no one else ever in that bulbasaur is my favorite gen I starter. He went down to Tirili.

Next up, Charmander, my second favorite gen I starter. He went down to Marushka and her new supereffective water move, bubble beam.

Lastly, Squirtle, my least favorite gen I starter. He went down to Hookah iirc, bug being the closest thing to a grass type move I have.



He gave us $11.78, and then while the bozitos were fidgiting around and trying to figure things out, he gave me first pick among the starters. My id set me up to pick Squirtle, so I did. On my first playthough, naturally I picked bulbasaur because I'm a nerd, and was kinda hoping for a repeat like my repeat with Lux. Alas, not meant to be. That's fine. I'm kinda glad though that I got squirtle - even without Lux, I have a lot of potential fire types in my future, including the later evolutionary stages of a certain Tirili. It's a little redundancy with Marushka though, but that's fine, Marushka sort of fills a different niche in the wide and diverse Water type.


He's brave (+ATK -SPEED) . And even though he's not my favorite kanto pokémon, I'm actually looking forward to using him. One of my favorite playthroughs through firered involved me picking my team out ahead of time (this is actually a really fun way to play I think), so I traded in for myself all three kantoids and got to work catching all the pokémon in firered with that team, and the Blastoise was an instrumental special attacker in the team, not to mention surfer. Anyways


Los bozitos inferiores arrived right after Calem and Shauna apparently picked theirs, and Sycamore told us to go east to see things and "be the best trainers we can be, whatever that means to us"... so, you know, a dancer for Tierno, a dexer for Tomato, idk the other too. In the German version I remember Tomato complaining about not getting starters like Calem, Shauna, and me, but he didn't say as such.


On the way out, there was this tall guy with red...vegeta hair but there's two of them, this guy:


He's not half as grumpy in our meeting though, and he just creeps on us positively by going on about how good it is that we're undertaking this deed for the professor and how it's beautiful and the world needs beauty and he's going to do it. Sina just kinda is like "lol ok whatever you mean by that" because she's nonplussed and used to it or something.

He leaves, she leaves, everyone follows us out and scatters about. Calem wants to meet us in the cafe to tell us something... ou la la



But, sadly, you're going to have to wait and find out what dear feelings he wants to confess to us next time. I just ran to the PKMN center, healed, and saved.

Abulabbaz and Kalle are level 10. Tirili, Hookah, and Dunsdottir are level 13. Marushka's level 14.

Abu knows sweet scent and gust, and has honey gather (basically, he'll randomly get a pot of honey in his item slot). Marushka knows bubblebeam, Charm, Water Sport, and Bubble, Tirili knows Tackle, Growl, Quick Attack, and Peck, Dunsdottir knows Pursuit, Screech, Rollout, and Spite, Hookah knows Tackle, Struggle Bug, Stun Spore, and Protect, and finally Kalle with torrent (Lux's ability but for water) has tackle, tail whip, water gun, and withdraw.
unrelated
also lead screw off I had space issues on my phone and couldn't really do back ups with the resizer